Happy November! We're in the perfect peak of Autumn right now if you ask me; cold enough to warrant a hoodie or jacket but warm enough that being outside in sunshine is still joyful. 
November also signals the start of our silly season, as I like to call it. While that term is normally saved for the off-season coaching search, it still holds true with us because most days when I leave the office (and if the boss is reading this, sometimes even 6 or 7 o'clock wink wink) my brain is fried and I am indeed in a silly state of mind. With MSU's big win over Michigan (our Paul Bunyan shirt design sold out in a day), our other licensor schools starting to hit their football stride (Baylor confirmed that Texas is not back), and college basketball right around the corner, we're already sending shirts out the door faster than we can make them. 
But then we add Black Friday to the mix? That makes us go from merely efficient worker bees to full on Mike Wazowski slinging scream cans to keep up with Sully's scream record; busy but knowing that people are buying our products because they love them, the quality, and the school for which they represent so it is never a burden in this office. 
You probably have some Black Friday questions, and I hope we have some Black Friday answers. 
When is Black Friday?
Friday, November 26th. Keep your eyes on your email though, because we might drop a sale earlier than that!
Are you releasing anything new?
Yes! We are very excited about the new items we have coming down the line, but don't want to share exactly what they are just yet (if you follow Nudge on Twitter you might have a better idea of what type of product we're talking about). I will share that we'll be using apparel from brands such as The North Face and Ogio. In the meantime, click this link to look at our newest t-shirts and we also released new hoodies for Liberty, West Point, Houston, and Northern Michigan as well as multiple XL wall decals for various universities. 
What is the shipping timeline?
This is probably the biggest wild card and unfortunately we do not have a concrete answer because there are so many variables built in (weight of the product ordered, time of day ordered, day of week ordered, etc.). What we DO know is that shipping times have gotten longer and shipping prices are more expensive, so if you're nervous about getting your item in time for the holidays, order early! Most single-shirt shipments take 3-5 business days to reach their destination, but the added volume of Black Friday and holiday shopping will probably make that closer to 7-10 business days. The absolute best time to order your item is around 9 to 9:30 AM early in the week (Monday or Tuesday) because that is when we are usually finishing our shipments for the day and we'll get to yours in the queue for that same day (unless it is a premium item or wall decal that needs extra printing time), and then the post office has the rest of that week to get it on their routes. If you order late on Friday afternoon, your order likely won't be processed until late Monday morning, so be strategic with your plans and if you need expedited shipping, contact us to work out payment. Don't order later than December 15th if you need it by Christmas!
What type of savings can I expect?
Unfortunately we can't share that specific of information just yet, but like our first president said with his cherry tree, "I cannot tell a lie". So I'm not really lying, just withholding information (man, I should have gone to law school). But the fact that I quoted George Washington is a hint within itself. I'm saying too much, moving on.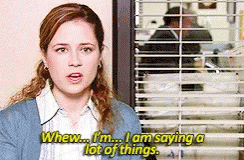 The item I want is out of stock currently. What will be restocked for Black Friday?
Everything, we hope! Our printing team is currently in the process of making more of our best selling items such as Gruff Sparty (t-shirts and hoodies), Paul Bunyan, Dunkin' Gruff, alumni apparel, and much more, so we are in a good position to be hitting the big weekend with a full slate of inventory for all of you! If you see a decal out of stock, just send us an email or DM us on Instagram and we can print more - those only take a few minutes.
I want to customize something for a huge fan I know. Is that possible?
This is a complicated question. We want to supply the absolute best experience we can, both in terms of quality and customer service, but not every product can be customized. Licensor schools are very strict about their branding information so we cannot do any artwork that covers or alters their logo. We are very limited in offering customized apparel because it's such an in-depth process to get something printed, but it can't hurt to ask right? 
Decals are a different story. Re-sizing existing decal artwork is a breeze because it's just tapping a few keys and sending it to our industrial decal printer. In fact just last week, we printed a set of miniature Appalachian State car decals for a customer who wanted it for her mug - our traditional 7" wide decal was too long so we made them 4" and were done in 15 minutes! When asking for custom jobs, please be as specific as possible and tell us what the intent for the decal in order to help us use the proper tools for best production practices.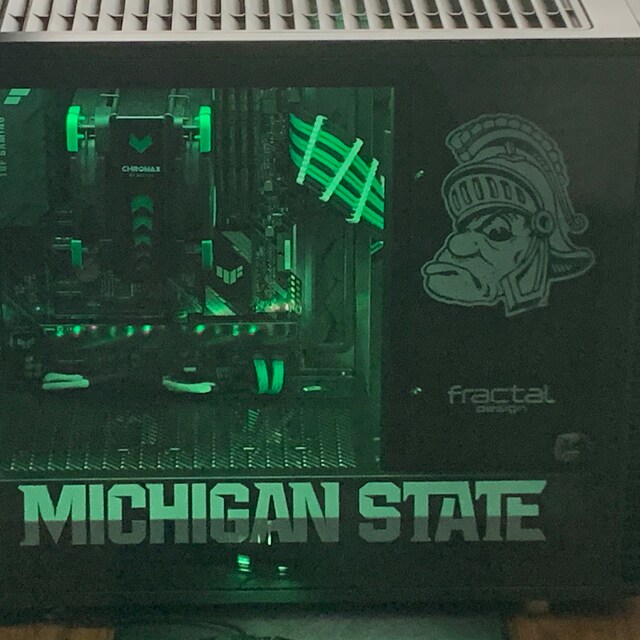 For example, we had a customer that was building a custom PC and wanted one of decals as the finishing touch, but our standard size didn't fit. We printed him a custom 5" decal of our Gruff Sparty in a matter of minutes and the above photo is the end result!
Custom decal artwork, however, is not as friendly. Let me preface this by saying that while we have the ability to make custom artwork for decals doesn't mean we always have the capability. Our days get extremely chaotic here during this silly season and we don't always have the time and staffing power to dedicate someone to custom artwork. 
That said, custom artwork is available, depending on what you're looking for. For example, if you wanted to add "Class of 2021" text to an existing decal, or just wanted your name printed, that's not too bad and doesn't take too long to design and produce. It will add to the cost, likely jumping from a $10 decal to at least $20 depending on the time it takes to design, and more for cornhole decals or larger size custom jobs. Brand new artwork that doesn't use any existing files will cost a lot, just so you know. Check with us first at info@nudgeprinting.com.
I hope that covers most of the questions that were in your head. If you have a question that is not listed here, please feel free to contact us and we'll see what we can do! 
---